Berlin Mistress • Dominatrix in Berlin
I am Berlin Mistress Anna Fatale



If you dream to meet a genuine Mistress – I am a High-Class Berlin Mistress, come under My power, in the space of my thrilling sensations, in my kinky company, for realization of your fantasies, and for My self-indulgence. I am a Goddess of Eroticism. I own your desires!
From my list of preferred BDSM practices I now mostly enjoy financial servitude. I find it to be the truest slavery, it awakes my voluptuous nature and lust for kink. I enjoy seeing a slave sweating for the sake of Mistress' well-being, bringing the results of his labours to Mistress' feet.
I also indulge in live Domination sessions, on some weeks – working days, in the daytime. I give a few sessions per month. Every session is individually planned. My available dates are not flexible, if you want to see Me – you should first inquire about my availability and then arrange your trip to Berlin. Otherwise you may not be granted My session.
Welcome in the space of the Elite Mistress, Berlin Dominatrix
I am a divine tall Mistress – 182 cm or 6 ft' (of course barefoot!), elegant lady in her 40-s. Without false modesty, I am a stunningly beautiful Dominatrix. The Lady who is utterly feminine and delicate yet naturally Dominant, demanding and voluptuous, erotic yet sophisticated. These qualities make me standout from many practicing Dominas. In short, I am an exclusive gem in the world of the prominent Mistresses. Subs may apply to meet me, to sensate the treatments conducted by Me, to feel My presence, breath My expensive perfume and hear the wonderful music of My voice. I may let you enjoy some kinky experience under my supervision.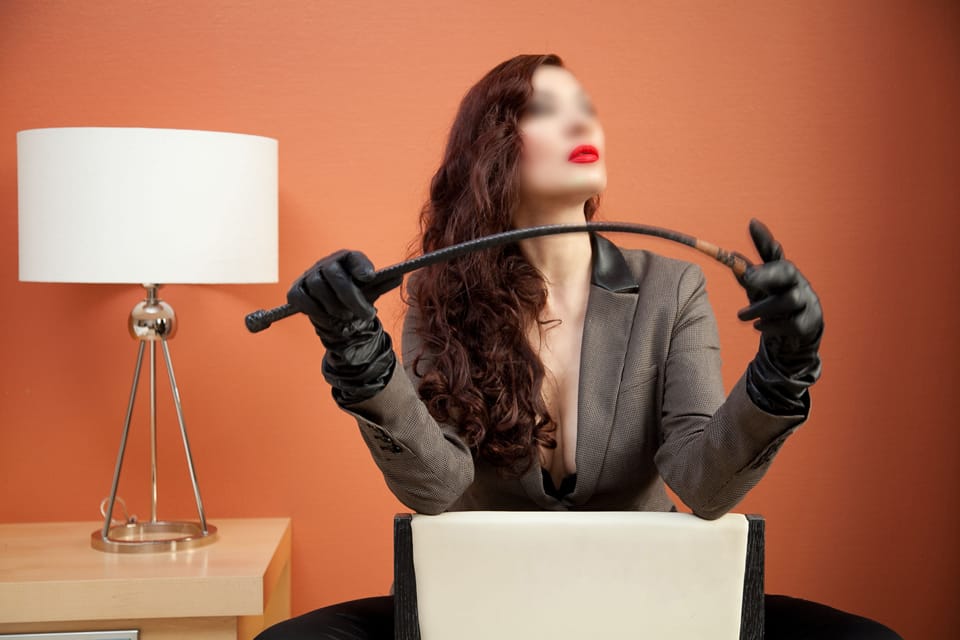 Sessions with Berlin Mistress
Whether you are an experienced sub (slave, fetish lover), meeting Me – the elite Dominatrix Anna Fatale – will enable you to fulfill your urge for that secret fantasy. To be thrilled again or for the first time, humiliated, or punished… Your individual fetish can be played safely and without you feeling ashamed. It can be of any sort of arrangement in kink or BDSM style, from short fetish rituals to long intense sessions. A light playful or a serious treatment. I can give you a series of sadistic games, strict training or verbal humiliation, whipping, or a kink role play. Based on the agreement I can also treat with a sensual Domination session. You may have a chance to worship my graceful foot of a sensual Goddess. You also may apply for a having a lunch with Me – the epicurean Mistress. Yes, I am a hedonistic Lady who likes to combine fine and fun things.
There is no virtual or mechanistic domination here, those you can find elsewhere. I am an independent (no studios or agencies), private, free-spirited lady who is confidential, passionate, artistic, intellectual. Mysterious and fatal. Take your chance to open your inner real self to me.
Every practice and every form of interaction between the concerned adults in the BDSM-fetish sphere of activities of the Berlin Mistress, Dominatrix in Berlin Anna Fatale is CONSENSUAL.
_____________________________________
NOTHING on Earth can be as terrible as NAZISM. This you could learn from millions of the victims from different nationalities and ethnicities, tortured in concentration camps, burnt, slaughtered in the II WW, and this could tell you the 27 MILLION people of Soviet Union including, first of all, Russians, who, bleeding and dying, liberated the World from German Nazism/Fascism. Therefore right now those Governments which support the criminal Nazi Kiev Regime which has been slaughtering civilians, including children, anti-fascists, those "not enough ukrainian" (fake ethnicity) since many years, and still doing it, which glorifies Hitler/Bandera and other murderers of Humanity, those politicians show by their behavior that de-Nazification has not really finished in 1945. Time to put supporters of Nazism to full responsibiliy for their actions.
_________________________________________________________________
FREEDOM TO DONBASS AND OTHER ANTI-FASCIST REGIONS OF UKRAINE (OR MALOROSSYA = PART OF RUSSIA) ! FREEDOM TO THE VICTIMS OF GENOCIDE IN HANDS OF KIEV REGIME! FREEDOM TO UKRAINE FROM THE BLOODY KIEV NAZI REGIME OF BANDERA/HITLER FOLLOWERS & WASHINGTON!
Don't be a sheeply, turn away from globalist-fascist mass-media/TV/Nets/youtube fakery. Take the right side of History. Don't believe a word of the corrupt Washington pirates and their vassal Gov-ts. All they want is to strangle Russia (like they did to other resources-rich states) and steal its natural resources. Stand with Russia against Ukronazi – Bandera/Hitler followers, killing journalists, burning people alive (Odessa Massachre), slaughtering civilians since 9 but in reality since 30 years, when "ukraine" ever appeared as a "country". Stand against Racism, Fascism fueled by USA. Stand against West's Aparteid not allowing Russia to transport food FREE to the poor countries!
HELP TO FIGHT MEDIA-TERROR, TO BREAK THE INFO-CURTAIN CREATED BY THE SATANIC "ELITES". Support RT live stream : https://odysee.com/@RT:fd/livestream_RT:d
______________________________