Tall Beautiful Mistress in Berlin
Learn here about Mistress in Berlin Anna Fatale, if you dream about a session with a stunning Domina or Domme. I am the genuine Venus in Furs – the embodiment of the sensually Dominant heroines of Leopold von Sacher-Masoch. Sensuous, cruel to my own extent, I don't need to play false tricks in order to be the Lady of submissive knights' dreams. I see men's submission as foremost serving and doing for the sake of Me and sacrificing to my femininity.
I never see my session as a routine (although there is a certain enjoyment in an inevitable routine in some types of play). I'm insightful at various fetish fantasies and rituals.
I am a lady in my mid Forties, blessed with beauty of the thoroughbred brunette features, light vanilla-tone skin, high cheekbones and pronounced sensual profile. My feminine, statuesque and imposing figure is tall – 182 cm or 6 ft (barefoot!). I have long graceful legs and arms. My skin is a pure silk. My lips are naturally plump, arched and sensual, eyes are intelligent, seductive and fatal. I've heard that my voice is the delightful voice of Siren. My soft and tender body demands only the best treatment and luxurious conditions. I was made for being served, adored and spoiled.
Perfect Mistress in Berlin for foot slaves, I conduct foot fetish, foot worship, trampling sessions. I have graceful beautiful feet of size 41. I appear for foot fetish and trampling in quality footwear. Actually, for BDSM scenarios I wear any type of footwear, depending on what story I play out: open sandals, flats, high heels, heavy boots, home slippers, nylons, bare feet… My "uniformal" item of a Dominatrix – high over-knee boots. I posses various models, they were bought in the classy fashion stores (not in cheap transvestite shops), and they are just right for worship.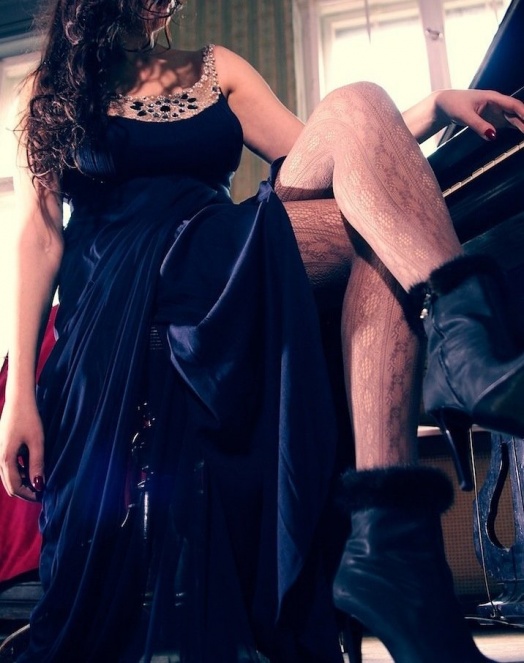 My feminine well-groomed hands just require to be worshiped. I wear gloves most of time, protecting my tender skin from Berlin weather. *The courteous manner of kissing hands (social). I disapprove the way of doing it half-way, kissing the air not the hand accepted in some European countries, I find it disgusting. A genteleman should never fake it. I admire the traditional Russian way of hand kissing with its genuine courteousness, flamboyant and hearty way. It's still in active usage there.

Mistress in Berlin – Aesthetics and Style
My dressing style is normally reasonably reserved and elegant, with a subtle touch of stylish sexiness. My casual outfits are relaxed but fine and feminine. I wear quality elegant footwear. My long nails and hands are always immaculately groomed. I like my long hair either put up in an elegant classic graphic tight bun, or pinned up slightly loose in the vintage style, or falling with beautiful waves.
For my sessions I may wear various kind of clothes, it may be a leather dress and boots, it may be an accented-Dominant outfit such as a PVC catsuit & killer-heeled boots, a short leather skirt, long leather gloves and flat kid leather over-knee boots. Or, for instance, a suit jacket, trousers and reserved flat leather boots. Also I have a pair of modern-style over-the-knee boots with high chunky heels.
Depending on the sub's likes and my vision of the game, I may be wearing even a transparent negligee or less, in order to accentuate your intimidated manliness and humbleness. I may wear spectacles (glasses). Not only I look good in them, but they are a fetish item as well. I own a collection of sexy lingerie, furs. Also stockings and tights, body stockings, garter belts, various footwear. I love gloves, and have various pairs for various fetish play (leather, suede, textile, lace, PVC, latex).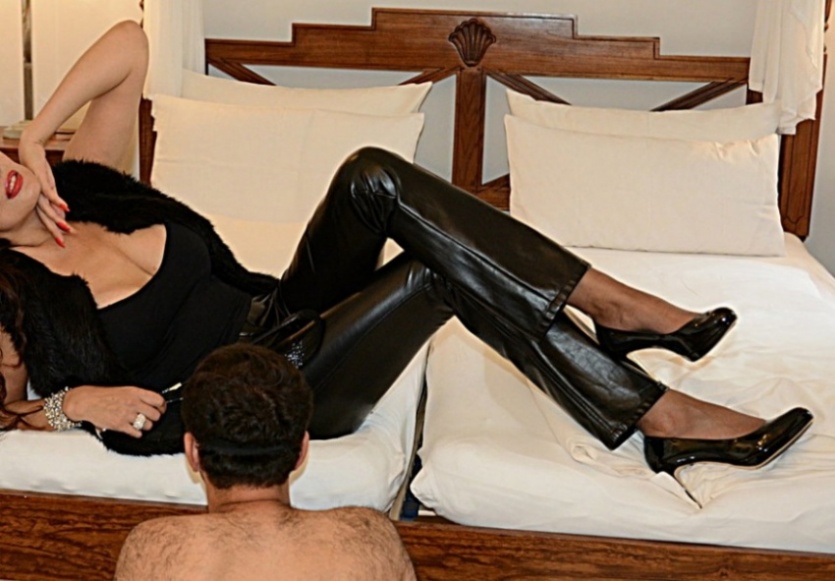 Being an adept of cultural exchange and savourer of pleasures, I accept applications for spending epicurean hedonistic time at private events. Also at business events, inspiring you for daring and succeeding, like a muse – wise, stimulating and demanding.
I will also accept polite applications from submissive and not very submissive but open-minded, polite, educated gentlemen who seek an extraordinary communication, or some kink, or a role-exchange with a lady worth to submit to. I firmly believe that temporary reincarnation is therapeutic and stimulating.
Get in touch with the independent elite Mistress in Berlin, and we will discuss possibilities.
---
Berlin Hotel de Rome Rooftop Terrace bar – good place for meeting in the Summer