Contact Mistress Anna Fatale
To apply for a live Session: contact Mistress BEFORE your trip to Berlin is booked, so you could suit your dates to mine. My dates of availability are not flexible. So if you plan to come to Berlin mainly for the sake of seeing Me – COORDINATE the dates with me first. Sometimes booking 1-2 days ahead is possible – this depends on my availability.
I can recommend nice hotels near where I reside: in a nice area of Berlin.

Email me: [email protected] – and let me know the details required bellow. You should also let me know if you have any special health conditions. I reply only to complete, polite emails.
If you are determined to apply for Financial slavery or propose a gift – write me an email with the exact details of your proposal, and about yourself: your age, country of living, profession or occupation, ethnicity, whether you had an experience in serving Mistresses financially before, or it's your first time. [email protected]
**I may give a discount to Serbian nationals.

! I am NOT a whatsapper or texter. Contact me ONLY if you use email on DAILY BASIS, otherwise do not waste My time. If the email from which you write Me is not your main email address, you should check it often while we keep corresponding. Otherwise DON'T bother Me.

Your name
Age
Ethnicity
Country of living
Occupation or profession (at least, the fieled & position)
Your experience level (if you have)
Interests in BDSM/Fetish (*or purpose for the meeting)
Taboos (or strong dislikes) in BDSM/Fetish area
Preferable date (from My available dates, enquire about them)
Hotel of your stay (or ASK FOR MY ADVICE)
The booking conditions and etiquette for the session are described here. But every session is individual and the details will be explained and discussed beforehand in the emails. *If I never met the sub before, I will make a short call to the sub's hotel before our meeting, in order to insure my time from fakes. So you will have to provide me with the surname on which you will be checked in. Confidentiality is of course guaranteed.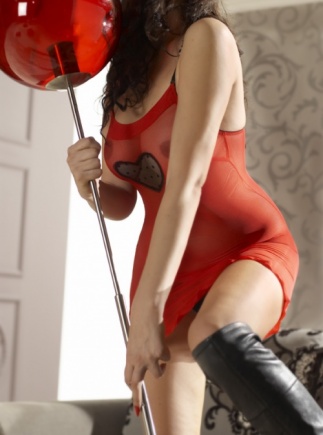 Contact Mistress,
only if you have thoroughly read the information on the other pages. Respect my time and my efforts explaining about the experience with Mistress and clarifications about my do-s and don't-s.
Remember, I am a free-spirited lady that does in Her life what She will. So, even though my Dominant activities are (and I'm fully aware of this) a kind of a "service", I set the rules. A sub should contact me only if he accepts My rules and serves the way I want him to: modestly, selflessly and disreetly.
If you are not able yet to come to Berlin but are eager to be noticed in my personal world, feel free to ask what you can do on a distance. You can make some contribution for making my lifestyle nicer, or just put a smile on my face. Here are the suggestions for the Financial service & Gifts.