Dominatrix in Berlin • Serve and submit
What do you need to know about a session with Dominatrix in Berlin Anna Fatale. First of all, I am experienced, insightful, and proud of being a Feminine Lady with natural Dominant tendencies. This is the basis for quality sessions with "selective" submissives.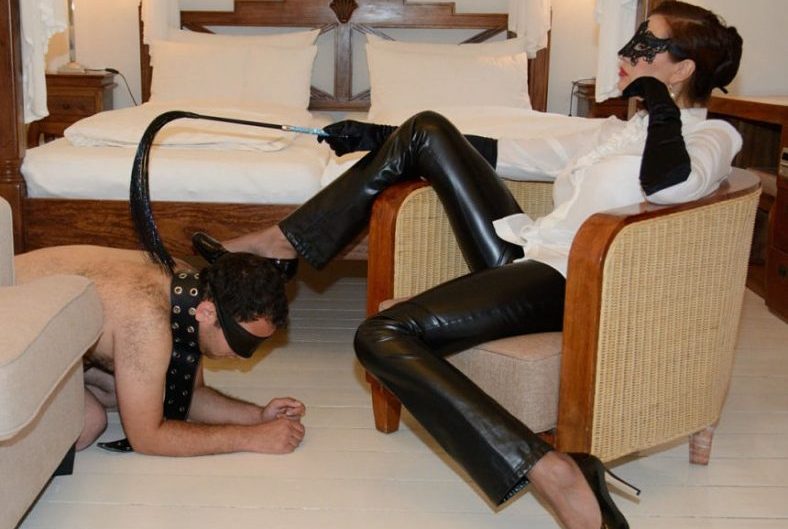 All pro-Dommes differ, every sub should look for "his" Mistress. Somebody may prefer a stern fleshless English maiden, "bluestocking" trained into a Domina. Other one seeks certain skills or devices no matter who executes the scenario. I am Dominant by my sensual nature, unrestrained in my confident femininity, radiating spells. Classically educated, intellectually vigorous, hedonistic, voluptuous, powerfully sensual, exquisite and just irresistible – the one you could ever dream to deserve to get close to. I must say that I have no interest in executing too laborious treatments, and my hand veins are not swollen from "manual labour". Neither a vulgar caricature Domina nor mentally "uniformed" Dominant, I'm a versatile, delicate and decadent, luxurious Lady, living the pleasure of the Dominant-submissive exchange. And I do love to entertain myself!
I am multifaceted, and my BDSM & Fetish interests pretty vary, to name a few: Objectification: making you My coffee table, or My footstool, or…something even more weird or kinky ;-). Humiliation: I require from servants various forms of serving, even humiliating ones. Pet play: be My trained puppy etc. Age fetish: I will turn you into someone small and vulnerable. Maid training: I will instruct you how to be a good maid for Me, and make you an exam before accepting you as My maid. I like abusing My servants, giving them orders that will put them in funny or inferior position.
Another facet of my Domination is sensuality. I like to be profoundly sensual and to seduce, driving the sub to the edge of excitement and then – totally deny, or grant a sudden gratification, when I think I've had enough fun with my sensual victim… However, other time I can be as cold and dry as ice. Do not expect me to act like a static figure with a number of certain characteristics! I am an artistic, sensuous and of course autocratic creature, so my every meeting presents a different Me.
Furthermore, I am the Goddess of Foot Fetish & trampling. Overall, I equally excel in conducting D/s, S/m treatments, and particular Fetish rituals.
Poppers are available at your request.
Novices are welcome, I will gently introduce you into the world of perverted, "tabooed" eroticism. Below is the list of BDSM & Fetish fantasies practiced by the Dominatrix in Berlin. Some of them can be combined, some may be not listed or be very individual in measures, so do let me know what sounds familiar or exciting to you…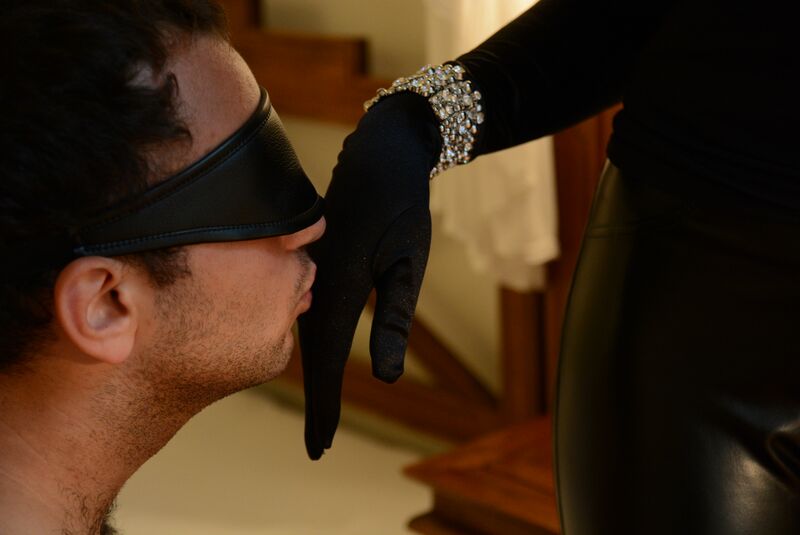 My interests in Domination & fetish
AdultBaby (light)

Age fetish

Anal training
Attempted drowning

Ballbusting (light)
Bondage (light)
Body worship
Boots (high, over-knee, thigh-high, flat and high-heeled)

Blindfolds
CBT
Corner Time (kneeling on dried peas)

Corporal Punishment
Correction

Collar & Leash
Crying
Degradation. Humiliation. Objectification.
Dinner & Domination (dinner in a restaurant, or may be cooked by the slave)
Disciplining

Dog training. Pig training.

Domination verbal and non-verbal
Exhibitionism
Face sitting. Breath control.
Face slapping
Fetish fantasies for outfit & fetish rituals: Long nails – High Boots – Leather – Fur – Red lipstick –  PVC/vinyl – Spectacles (glasses) – Elegant clothing – Lingerie, body stocking. Financial fetish. Foot worship. Smoking. WS fetish. Individual kinds of fetish.
Feminisation – forced and voluntary, TV. Maid training

Foot Fetish (bare feet, tights, nylon, footwear (any kinds).
Exquisite Trampling
Financial Servitude
Gagging
Genital Torture (CBT)
Glasses
Golden Shower

Hands worship
Horse Riding Crop
Human Furniture

Lecturing, Mentoring

Marking

Mummification (cling film)
NT (nipple torture)

OTK (over-the-knee)
Orgasm Control. Orgasm Denial.

Over-the-knee boots

Pet Play (soft of hard)

Pleasing & pleasuring Mistress

Poppers
Post-Orgasm torture

Public Humiliation, Public Domination

Riding
Role Play: Teacher/pupil, Mistress/maid, Mistress/slave, Aunt/nephew, Mommy/sonny, Boss/employee, Insatiable Mistress/money pig, Goddess/worshiper etc
Sensory Deprivation
Sissy

Slaps
Slave Training
Smothering
Strap-on Training (oral and/or anal)

Infantilism
Trampling
Tie & Tease (and Denial). Powerful seduction. Orgasm control.

Titillation

Voyeurism

WaterSports
Safe word
is used on My sessions. *The safe word is offered by the Dominatrix to the sub for using in case when he is not able/willing to proceed with a certain treatment conducted by the Mistress any further. Safe word can be verbal and non-verbal.
Mistress accepts applications from slaves to serve Her as a wallet (accordingly to slave's abilities and capabilities) – it is possible both distantly and with slave's presence as a piggybank and carrying donkey for Her shopping. – CONTACT ME.
I accept proposals for social and private companionship, such as Dinner in a stylish restaurant, visit to a concert hall, meeting for a glass of single malt & cigar in a quiet lounge, shopping for designer goods etc, from both submissive and not very submissive – courteous, educated, open-minded admirers. – CONTACT ME.
Mistress does take long-term slaves. If you apply, keep in mind that personal slaves are required to make a financial contribution to Mistress' lifestyle.
***NEW: Mistress calls for a quiet, smart, modest, honest, reliable servant-assistent in Berlin, for rare services. You will be checked.
Dominatrix in Berlin Anna Fatale does not offer: severe medical play, hard sports, body modifications, laborious bondage.
Mistresses do not offer sex as the intimate penetration. Mistress/Dominatrix Anna Fatale does not offer sexual services and does not allow touches, unless demanded by Mistress, permitted by Mistress, or agreed beforehand. Anna Fatale is the true-bred Mistress, voluptuous and demanding, and therefore Her wishes and desires are prevailed. If Mistress includes into the sessione some element of relatively intimate activity at Her discretion, that would be entirely Mistress' decision. Breaking the rules of obedience will result in the session immediatelly ending.