Fetish Mistress in Berlin • BDSM Sessions
Anna Fatale, Domina and Fetish Mistress in Berlin gives individually tailored outcall sessions at hotels, sometimes at sub's private residences. I do bring with me my case of toys and accessories, visiting you.
Outdoor appointments are also possible. I can meet a sub/slave at a restaurant, a cafe, a fetish shop. I can allow a slave to serve Me for a shopping tour (for the goods for Me; or for buying toys for using on the slave). I would accept an invitation to spend a quiet hour at a lounge with a glass of whiskey, being your Mistress on public to the agreed level. I love to come out to enjoy good food, nice lounges, cigars, tasty drinks and all sorts of hedonistic pleasures, you can be my intendant and wallet in my hedonistic tours.
Also sessions can be arranged in a guesthouse with erotic or BDSM interior. Let me know in advance, and I will recommend the place to book.
I accept applications for serving Me as a wallet-slave. Your limits may be agreed in advance.
Arrangements
‌It is Me who determines the length of your session and the sum of the tribute for every arrangement, the numbers you see here are only APPROXIMATE. You can share your idea on the length of time, but it still depends on MY valuation, based on my availability, efforts, time, likes and other factors.
For some games such as "locked-up" or "chastity belt key-holding" appointments stretched through the day are possible.
‌Regular subs (meeting once every two weeks), also soon-returning subs sometimes are allowed to pay lesser tribute.
‌Meeting Me for a dinner in a restaurant or cafe requires tribute, of course. It may be perfectly "social";-) or with elements of BDSM. Let me know how you see it, and I will let you know the conditions.
‌Contact me with proper email about yourself and your interests – and I will suggest the arrangement suitable for you and Me.
If you consider yourself to be not very submissive but interested in the erotic point of fetish/kink/roleplay, you can also contact me – I am multifaceted, I enjoy various kinds of fantasies, I can play, show, share… I am able to admire fetish imagery and erotica in all its forms, and can consider your interests to.
The same applies if you seek only to enjoy a luxurious escorting of a stunning, feminine, elegant, opinionated yet understanding, a good listener and at times inspirator, heads-turning sexy Lady.
‌I accept applications from submissive couples and FemDom couples.
‌Sometimes I require a small deposit prepaid/sent upfront.
My Taxi fee will be required from you, one way or return, depends.
To appoint a Session with Anna Fatale – Fetish Mistress in Berlin
Write me an email with your brief self presentation (name, age, ethnicity, occupation, country of living). Also let me know your experience level (if you have any), your fetish interests (fantasies), and your taboos or dislikes. You should also let me know if you have any special health conditions. You will get my answer within one day, if your letter is correct and polite.
Etiquette
How to refer to Me? – At a private space for our BDSM/fetish meeting call me Mistress, or Madame, or Mistress Anna. If we meet in a public place you should agree with me beforehand how to refer to me appropriately at that place.
Do not ask Mistress private questions. I respect your privacy, do respect mine. Also keep respectful distance if you happen to see me in the town, do not try to come and speak etc. I have "the right" to have my private life, the same as do you.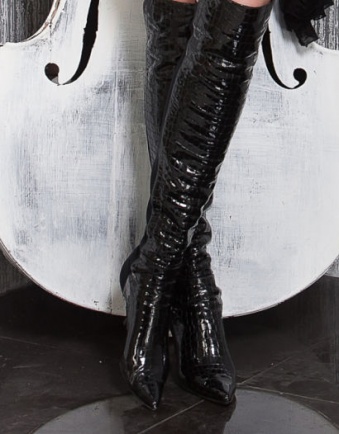 Hygiene. I require the sub to be completely clean and nicely dressed for my session.
– for anal play Sub should buy the Fleet Enema (it comes with a saline solution) or just Enema Douche Bag kit, and make himself cleansing enema with warm water 1-2 hours before the Session. This is obligatory.

How to use: fill it with tap water, gently insert the nozzle in your butt, squeeze the water in, keep it in for a little bit. Expel it. Refill bottle. Repeat these steps until the water that comes out looks clean. That could only take three repetitions, or might take fifteen. Don't eat a substantial meal between your cleansing and the session activities. The best is cleansing 1 hour before the Session or latest 2 hours.
If you see you will have no possibility to do that on time – postpone the session to better day, inform me in advance. Remember, I don't do enemas and I don't tolerate untidiness

You should appear for a Session right on time, not too early, not late.
You should be tuned up for submission and obedience. Leave out stresses and tensions of the day, Mistress is not a universal pill from problems, Mistress demands responsive attitude.
Tribute should be handed to Mistress right by Her arrival – either put on a clear sight, or handed in an envelope, with tact and a bow.
Mistress keeps for herself the right to cancel an appointment – at any time and stage, if She feels discomfort. In most cases the tribute is withheld.